Quick update on the girls home
2020 is a year of immense challenges due to the health pandemic caused by the corona virus (COVID-19), this is a global challenge and Kenya was not left out. To date Kenya has reported 85,130 infection with 1,484 death and 56,464 recoveries, Kenya is the 6th country in Africa with the highest positive cases.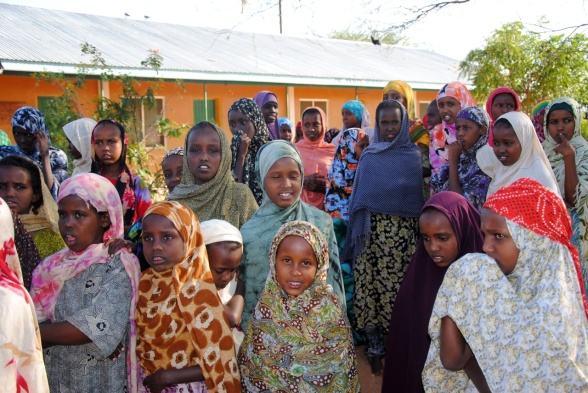 At the initial stage, the positive cases were in the major towns of Nairobi, Mombasa & Nakuru, however within a short period it affected the whole country Garissa included. The highest reported cases for a single day in Garissa was 20 positive cases while the average had been below five and even zero cases in some days.

Due to the increase of the positive cases, the President of Kenya announced the closure of all learning institutions (Primary schools, secondary schools, colleges and Universities) in mid-March 2020, this was followed by lock downs in some cities and countrywide curfew to cap the spread, just like in other countries the numbers continued in upward trend.

After the closures of all learning institutions the government ordered the closure of all children's home and this affected our girls' home. At this stage we were forced to look for friends and relatives who can host the girls until the end of the government directives, we managed to link every girl to a family with an assurance of some financial support to the girls, we also agreed with them that we shall be making periodic visits to them to understand how they are progressing.

In early October the government announced partial opening of the schools, specifically for grades / classes that were expected to sit or do a national examination; this included the Form four students (for secondary schools), the class eight pupils and the class four pupils (for primary schools), the partial opening was meant to reduce crowding in the schools and hence expected to reduce the positive cases. Following this announcement, schools were opened on 6th October 2020 for the above-mentioned classes or grades, this was followed with opening of the girls' home.

The opening of the schools brought a new challenge to both the learners and the teaching / support staff, the wearing of face masks, the social distance and frequent hand washing had become a challenge for many, this also brought a bigger challenge to parents / guardians who are expected to provide for the masks and sanitizers, this brought unexpected financial burden.

After opening of the schools the infection rate went up specially among the students in schools and their teachers, this led to death of a number of teachers in Mombasa and the western part of the country.

The girls' home is currently hosting a total of fifty (50) girls comprising of grade four pupils, class eight pupils and the secondary girls, this group is expected to continue up to end of December before they are joined by all the rest of the students / pupils on January 4th 2021. The 2020 academic year seems to be wasted for all learners, however, the government is trying to come up with a crash program where the wasted year can be recovered along the way in the next two years. The foreseen challenges for the full scale opening of the schools is on the provision of the face masks, the provision of sanitizers, how to maintain the social distance among children, all this will come up with financial burden.

The requirement for a social distance in schools will lead to splitting of classes which will lead to a need for extra space (classes) and extra teachers. At the girls' school we shall be able to create more space from the buildings we have, however it might be a challenge to get enough teachers to cover this.
All this is coming at a time when the global economy is on its death bed due to the effect of Covid-19